Our resident global citizen, Matt Murrie, has embarked on a two month road-trip to introduce Belouga to schools around the world. This journey has been incredible so far to say the least, and we wanted to share a few of his experiences. Here's an inside look at our journey from the past month from Matt.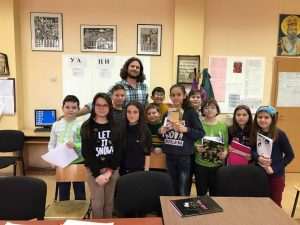 The Belouga World Tour got off to a wonderful start in the Republic of Macedonia with visits to schools in Strumica and to Peace Corps Macedonia's In-Service Training. The visits and training centered around how curiosity, combined with the Belouga platform could be used to transform educational experiences for educators and students. In Strumica, I met with over 150 students and delivered a Curiosity-Based Learning Professional Development workshop for over 70 teachers. After that, I visited Skopje, Macedonia's capital city, to facilitate workshops for about 50 Peace Corps volunteers and their counterparts.
There was a single issue that seemed to span the concerns of all Macedonian educators: they are getting tons of new technology in their classrooms, but they're not sure what to do we do with it. This is why it was so exciting to introduce Belouga to them because the platform connects the dots between their naturally occurring curiosity and their learning objectives, all while fully utilizing their newly introduced technology. It is a real, win-win-win situation for these schools.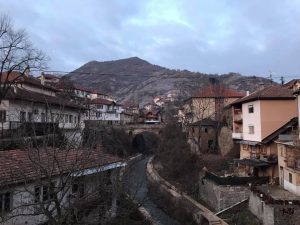 We generated so much interest in what Belouga can do, we were immediately invited back! Be on the lookout for more school visits and Peace Corps workshops as I spend the month of April introducing Belouga to new volunteers, their counterparts, and more than half a dozen new cities and schools across Macedonia.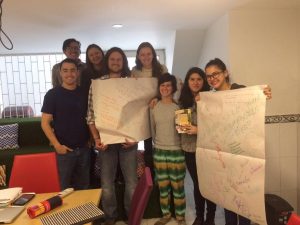 Next stop on the Belouga World Tour was Bucaramanga, Colombia. I was invited to provide a two hour, interactive presentation for a high school in the region. The presentation to over 150 students demonstrated how using their curiosity and Belouga could help them connect with classes and students around the world to create businesses designed to solve some of the biggest problems facing our planet.
I was impressed by the enthusiasm and wealth of wonderful ideas these students demonstrated when it came to applying their learning to real-life situations. Some of the problems their innovations addressed were things like student anxiety, hunger, access to healthcare, pollution, clean water, and mental health.
This was a pilot visit that is already creating future visits beyond Bucaramanga to work withs schools as well as partnering with a local social entrepreneurship accelerator on some of their social innovation projects with schools throughout Colombia. This visit also yielded meetings with Colombia's largest private university, who is interested in introducing the Belouga platform to the elementary and high schools it runs in Bogota.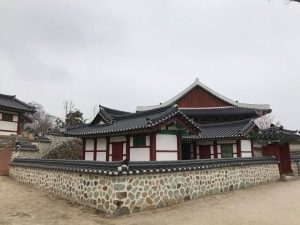 Up next was Korea! I got to visit with a few administrators of private schools and academies to learn more about the future landscape of education in Korea. While it should come as no surprise that technology and digital tools are at the forefront of their current and future plans, I was impressed by the degree of their commitment to using technology tools to make their learning both more student-centered and globally connected.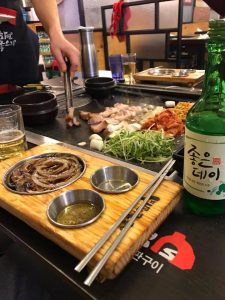 What I lacked in direct school visits, I more than made up for in eating and visits to historical sites. While the latter got my mind racing for the possibilities Belouga will have to connect  exciting lessons and experiences for students around the globe to learn more about so many cultural gems Korea has to offer, the former has my belly rumbling for seeing what Belouga might be able to do introduce new foods to classrooms and kitchens across the planet. The healthy ingredients that make up Korean cuisine can be found pretty much anywhere; it's how they're combined that makes the food of Korea uniquely delicious. Can't wait to see all of the future cooks these connections and collaborative learning will inspire!
Stay tuned for more details on our adventure this month and follow along on Instagram @belouga.global.