Remember the first time you learned about another culture than your own? Perhaps it was in the setting of your classroom, in a local restaurant or maybe even on a family vacation. No matter how you discovered this culture, you may quickly start feeling somewhat of an attachment to that culture or as we like to call it, emotional equity..
The term "equity" is often associated with business and how much ownership one has in a said business. You may have heard this term thrown around by stockbrokers, venture capitalists or if you caught the latest episode of Shark Tank, but how does this relate to human relationships? Here at Belouga we are driven by "emotional equity", We define Emotional Equity as someone's personal investment  in another culture, religion, race or ideology. For example,  a family trip to Italy may help you return with a few new friends and a lot of positive emotional equity that will forever stay with you. Unfortunately not all emotional equity is positive. With 24/7 news access at our fingertips, it's easy to get tied up in the noise of the media and to have preconceived notions of specific regions or their citizens. At Belouga, we feel that a personal one-to-one connection between two students can make all the difference., We've introduced the opportunity for children in the classroom to connect with peers so that they can build emotional equity and become better global citizens.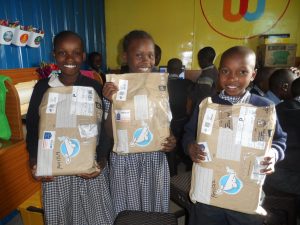 Through technology, emotional equity can be developed on a daily basis simply through everyday communication. Take a look at our most recent Impact Campaign supporting a school in Kenya. Our goal was to setup an Impact Campaign to provide their students with tablets to get them connected and learning with the world.
The campaign was completely powered by student communication. Points were earned by students through engaging with their overseas partners and then donated to the Impact Campaign for tablets. Once the goal number of points were achieved, the tablets were donated. This experience not only taught students using Belouga about other countries and their daily life, but more importantly taught them humanitarian skills and why it is so important to support those in need. Flash forward a few weeks later and the school in Kenya is now connected and learning with the students who were the driving force behind them receiving tablets. Not to mention, now participating in new Impact Campaigns supporting other schools in need…pretty amazing what one small action can turn into!

As we continue to grow the Belouga network, we are always looking for new opportunities to introduce the platform to teachers on a global level, and are extremely excited about being a presenter at this years EdChange Global Event. This event is a 24-hour online conference that focuses on the best tools and techniques for global classroom collaboration. Be sure to check out our session on Tuesday February 28th at 5pm est. Until then, keep connecting!