The following is a guest post from Marialice and Curran (The @CurranCentral Team).
Over the holiday vacation we joined #EdCampVoice on Voxer and were inspired to create the DigCitKids January Challenge around EMPATHY based around Dr. Michelle Borba's book, UnSelfie: Why Empathetic Kids Succeed in Our All-About-Me World.
In December, we were inspired by the Mannequin Challenge and thought if freezing like mannequins can go viral, EMPATHY can too! We picked EMPATHY because EMPATHY is about relationships and is at the heart of everything that really matters. EMPATHY helps us change our ability to understand each other and see that there are more things that make us the same than make us different. We hope our #DigCitKidsChallenge in January will bring out the very best of what makes us all part of the human race.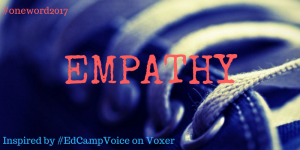 Ideas for the #EmpathyChallenge
The sky is the limit. Pick any topic around EMPATHY and tell your story/journey with any tool of your choice and share your creation with @digcitkids. We'll be sure to share out all creations on our Twitter feed and website.
Here are some questions you might want to explore:
1. What is empathy? How do we encourage and foster it every day?
2. How can we teach and model emotional literacy?
3. How do you develop an ethical code on and offline?
4. What happens when we walk in another person's shoes?
5. How do we humanize the person next to us, around the world and across the screen from us?
6. Answer what it means to #bethatKINDofkid in your classroom, school, neighborhood and community.
*Other ideas can be found here as part of Hallmark's holiday challenge.
In Preparation for Safer Internet Day, February 2017
We are hoping parents, teachers and community organizations will learn alongside their children/teens/students and join us in January's #DigCitKidsChallenge, so we can create something like last year's DigCitAThon where classrooms connected and learned about digital citizenship together. We will compile an EMPATHY video from the #DigCitKidsChallenge submissions and will share it as part of Safer Internet Day on February 7th.
Our Mother/Son Goal for the #DigCitKidsChallenge
During the month of January, we plan to experience EMPATHY as we take the #DigCitKidsChallenge as a mother/son digital citizenship team. We are most interested in exploring the ideas behind Cyber Seniors and connecting more meaningfully with some special seniors in our life.
We are looking forward to hearing your ideas and see them unfold during the #DigKidsChallenge!